Provenance
1936 – probably 1961 Karl Albin Bohacek, Halle | probably 1961 – 1965 Bohacek's heirs | 1965 – 1974 Given to Hanns Meinke, Berlin | after 1974 given to the Academy of the Arts, Berlin
A photograph dating from 1935 shows painter and set designer Rudolf Gerhart Bunk (1908–1974) sitting down, engrossed in a book at his Berlin studio. On a canvas leaning against the wall to the left in the background, three couples dancing energetically can be made out. In the same faces of the dancers, one can astonishingly see an expression by Bunk in the portrait of Hanns Meinke dating from 1936 that is held in the art collection of the Akademie. On a fragmentary section on the back of the image by Meinke, it is still there – even if it is hidden. Scarcity of materials presumably led to the canvas being reused. On the stretcher frame, the artist notes Kuss as the title of the image on the back, even though there is no kiss to be seen.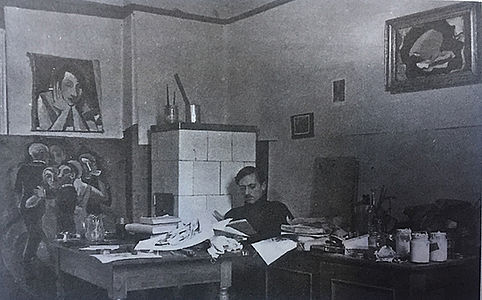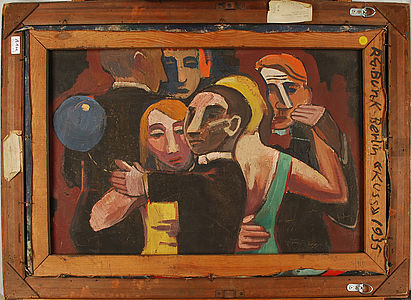 Bunk began his training in 1927 as a student of Karl Hofer and later studied at the Kunstgewerbeschule (School of Arts and Crafts) in Berlin-Charlottenburg under Harald Bengen. During the National Socialist era, he experienced overwhelming hostility as a second generation Expressionist artist. After several failed attempts to flee to Switzerland and Sweden, among other places, he finally managed to emigrate to Yugoslavia in 1941 and Egypt in 1944. In 1958, he settled in Hamburg with his family.
The painting depicting the poet Hanns Meinke was a commissioned work. The industrialist, art broker and patron of the Charon Circle of poets, Karl Albin Bohacek (1901–1961) from Halle, commissioned portraits of writers from Rudolf G. Bunk. Together with another portrait of Hanns Meinke painted by Bunk in 1936 (Inv.-No. MA 273), the oil painting was owned by the patron until his death.
Karl Albin Bohacek served as the administrator of manuscripts and letters by Hans Meinke and other writers of the Charon Circle. As early as 1962, at the request of the writer Hanns Meinke, the Bohacek family had already begun to return some letters to him before they were moved to an archive due to a necessary change of residence. The Academy of the Arts, Berlin (East) took over the Bohacek Collection from 1965. His daughter wrote to Meinke at this time that she would hold back Bunk's oil painting with his portrait – which of the two is unclear – for him and have it ready to be collected. In turn, Meinke himself made donations while he was still alive and left his estate to the Academy of the Arts (East Berlin) between 1969 and 1978. Further donations were made to the Academy in West Berlin. These most likely also included the pictures by Rudolf G. Bunk. It has not yet been possible to determine an exact date for when these came to the Akademie der Künste. The provenance noted on the inventory card is simply "Received from Hanseatenweg, Slg. Hanns Meinke". In addition to the Hanns Meinke Archive, the Rudolf Gerhart Bunk Archive is also held at the Akademie der Künste, Berlin.