Der gefesselte Prometheus, 1900
Carrara marble
380 x 195 x 120 cm
Inv.-No.: KS-Plastik PL 103
Catalogue of works: by Simson WV 165b
Provenance
Until 1911 In the artist's studio | April 1912 Begas estate auction, No. 16 (unsold) | November 1912 Second Begas estate auction, No. 78 (unsold) | until 1941 In the possession of Begas' family heirs | 1941 bought by Inspector General of Construction Berlin (Albert Speer) from the Begas heirs | after 1990 Acquired by the Akademie der Künste, Berlin
Wrapped in chains and walled in, the marble Prometheus by Reinhold Begas languished for decades in the Akademie building at Pariser Platz near the Brandenburg Gate. After he enraged Zeus, the hero of Greek culture and mythology was tied up and perpetually tortured by an eagle. Resigned to his earthly fate as an artwork, he waited and remained inaccessible until he was discovered in 1990 and set free five years later.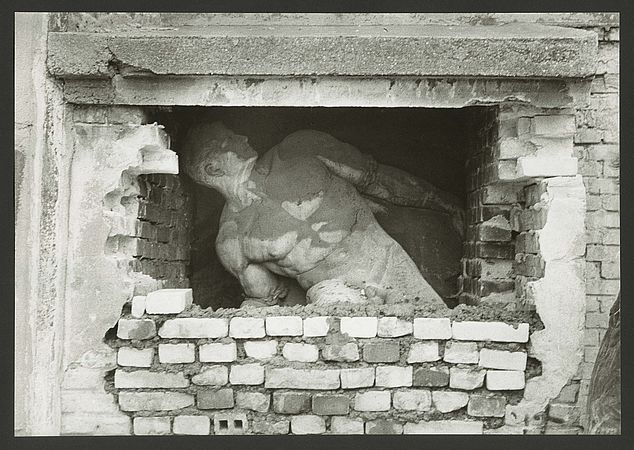 The last monumental work by Begas, which belonged to the Prussian Academy of Arts from 1869 to 1911, was transferred out of family ownership and sold at two auctions of the artist's estate to the Heilbron brothers' art auction house in Berlin. The marble sculpture is depicted in both auction catalogues. The catalogue of works notes a sale to an unknown buyer. Nevertheless, according to newer findings the work remained in the cellar of Reinhold Begas' widow's town house for many years until the chained Prometheus attracted the interest of the National Socialist Inspector General Albert Speer in 1941. The Inspector General for Construction of the Prussian State in Berlin bought the monumental sculpture from the artist's heirs with architect Fritz Beyer acting as his authorised representative, and probably installed the sculpture in the building at Pariser Platz shortly thereafter. But the sculpture did not spend long in the daylight. To protect it against the impact of war, it was walled in at the beginning of the 1940s.
Palais Armin, formerly used by the Prussian Academy of Arts, served as the Office of the Inspector General of Construction from spring 1938. In 1938, the Academy moved to the nearby Kronprinzenpalais, which was home to the new department of the Nationalgalerie until its closure during the "Degenerate Art" campaign.